Message from the President
Can math save your life? Can nurses fight addiction? We're answering these and other fascinating questions at Adelphi.
April 4, 2018
I often walk over to our playing fields at Adelphi to catch a softball or lacrosse game, incognito. I like to join the whooping and cheering in the stands. But sometimes I find myself wishing all our students—the ones in the labs, in research facilities and out in the field—had the same kind of cheering for their incredible contributions to Adelphi.
The latest issue of my newsletter, which is all about research, is my way of cheering all those at Adelphi, faculty as well as students, who are hard at work in labs and hospitals, at conferences and seminars, on mountainsides and in urban centers around the world.
My new President's Report will give you some insight into how we are supporting faculty research, including our work with Brookhaven National Laboratory. See my favorite picture of math problems being solved—floor to ceiling—on page 4, as part of our Applied Mathematics and Statistics program.
In our labs, we are studying tools from the first Americans, crunching numbers that can help us understand the likelihood of getting cancer, and exploring fatherhood and child development. Those stories are below. And with the citywide ransomware hack of Atlanta a few weeks ago, which The New Yorker called "seemingly random and definitely worrisome," our work in cybersecurity, below, is even more urgently important.
I wish I could share with you a summary of Assistant Professor Branden Stone, Ph.D.'s work on maximal Cohen-Macaulay modules, syzygies and homological algebra, but, he told us, "It would take 15 minutes to explain it." He and his students present their research at national conferences to those who do understand it.
And in our most far-afield research, Kathryn Krasinski, Ph.D., assistant professor of anthropology, took a three-week research trip to the remote archipelago of the Falkland Islands, off the tip of South America, to do excavation work. When she was able to get cell service, she shared this picture (at right), noting, "Here is a gentoo mom and chick from New Island, Falkland Islands, which the crew passed every day on our commute to the field site." That's the kind of cheering section every researcher should have.
All the best,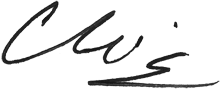 Christine M. Riordan, Ph.D.
President
» Read the April edition of From My Desk
---
Recent News