Message from the President
Worth it: The big thinking behind an Adelphi education
May 2, 2018
My colleague saw a beautiful sight the other day—a mother taking a picture of her daughter at the Panther statue on our campus just a few minutes after she made her decision to choose Adelphi. They were both so happy and excited to record the moment. When asked how they made this momentous decision, the mother paused and thoughtfully responded, "Well, I think it's because Adelphi is big, but small."
That has stuck with me as I think about this month's letter to you. Adelphi has so much that large universities have. An extraordinary arts program, with a Pulitzer Prize-winning professor and performance spaces recently named among the Top 35 in the nation, alongside Georgetown's and the University of Virginia's. Our Honors College has placed doctors, attorneys, engineers and scientists around the country. We have a thriving sports program, with last year's national champions in Division II women's lacrosse. Our historic nursing program is highly ranked in New York. Our psychology program is ranked fourth in the world for psychology/psychoanalysis, and our social work program ranks in the top five percent of the nation. Programs for returning students? Definitely. Majors? Over 50 to choose from—or make your own, as puppeteer Sebastiano Ricci, below, proves.
And yet, we are small. With classes of about 21 students or less. A close-knit family feel. A safe campus. And professors who know your name, have your back and help you get to the finish line—graduation day.
Small has lots of other unexpected benefits, too. Small means one-to-one mentoring for veterans, for first-generation students, for students of color, and for those in the LGBTQ community. Small means our groundbreaking Confidential Allies program for DACA students. Small means career support for every student, personalized placement for internships, and high-flying alumni who come back to campus to personally inspire students, like mobile-tech expert Michael Hurley.
And in my case, small means I can bring my bulldog, Georgia, into the office and invite students over to relieve exam-time stress.
So, all in all, I agree with that mother-daughter team at the Panther statue. Big/small is a pretty good idea. I hope, after reading these stories, you agree, too.
All the best,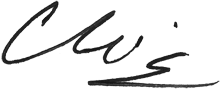 Christine M. Riordan, Ph.D.
President
» Read the May edition of From My Desk
---
Recent News